Before I started writing full-time, I was a communication coach. One of the things I did with my clients was to help them establish their goals. What did they want to accomplish? What was holding them back from their dreams? What would it take for them to accomplish their goals. It's one thing to set goals. It's quite another thing to achieve those goals.
They tell their friends about new resolutions for the year. The gyms fill up with these good intentions. By February all those people vanish. Where did they go? Why didn't they maintain their resolutions?
If you ask these people why they slid from their good intentions, they'll tell you life got in the way. They didn't anticipate a new job or a new baby or a sick parent or whatever. In truth, the resolution wasn't really a resolution. It was something they felt they needed to do, but they weren't really committed to it.
If so, here are some things you can do to make the goals happen.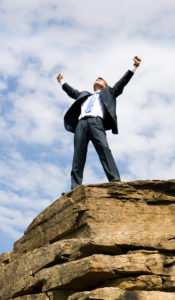 Set your goals with clear outcomes. If your goal is to lose weight, I'd ask you to tell me how much weight and by when. Your goal then becomes: I want to lose five pounds by the first of February. That's a clear goals with an outcome.
Once you set the goal, visualize actually achieving it. Imagine getting there and how that will feel. For example, if you set a goal to remodel your kitchen, imagine that new kitchen. Try out the new cabinets. Walk on the newly refurbished floors. Then, record your feelings. How did that newly remodeled kitchen make you feel?
Ask yourself what might stand in your way of reaching your goals. What obstacles might you encounter along the way? Once you know what those barriers are, you'll be more likely to scale over them. For example if one barrier to weekly posts on your blog is that you don't know what you'd post about every week, then write out a list of topics that will carry you through the first several weeks or months.
Find a buddy or partner to hold you accountable for your goals. If you try to do it alone, you may not ever get there. If your goal is to go to the gym once a week until March, find a friend with a similar goal. If your goal is to write a chapter a week in your new novel, ask a friend to regularly check to see how you've done.
Anyone can list goals and set resolutions. Accomplishing those goals is quite another thing.
Next year at this time, you'll feel successful and ready for the next leap.
What suggestions do you have to help people accomplish their New Year's resolutions?