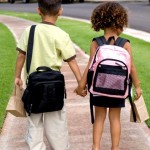 Yesterday I finished reading two great books, Defending Jacob and Mission Flats, both written by William Landay. I enjoyed Defending Jacob so much that I immediately upon finishing it ordered Landay's first book, Mission Flats.
But, one thing bothered me throughout the reading and began to really gnaw at me the more I read. You know how that is, you can't let it go. Landay's characters (all of them) said, "alright" over and over. In fact I really got tired of hearing "alright" uttered by every single person. When I first noted the word, I saw it was misspelled. I began thinking that perhaps "alright" is acceptable in dialogue. Seeing it over and over in Mission Flats took me out of the story and directly onto Google. Could "alright" be all right all of a sudden? I had learned in the fourth grade that all right was two words. Had things changed?
On Google I learned from the Grammar Girl that alright is NOT all right.  Her post confirmed everything my fourth grade, be-speckled teacher in sensible shoes said, "all right is spelled as two words." (or did she say all right are spelled as two words?). Altogether and all together can mean two different things depending on the one-word or two-word spelling, and all ready and already also have two different meanings. But all right has one meaning and one spelling.
Some of the sources hinted that "alright" may be moving into the vernacular, particularly in England. But it's not there yet.
If you decide to read these two books–which I highly recommend, don't get confused. Alright is misspelled! And Landay uses it over and over. In fact he overuses the word. Had I been his editor I would have not only corrected the spelling, I would have told him to do a search for how many times he used that expression. Once I noted it three times on one page!
Mr. Landay, you're a great writer and now that you've published two remarkable books, you could probably afford an editor. . .
All right already! (Oops or is it all right all ready?)