I picked up Deception Al Dente because I liked the way the reviews sounded, not to mention the cool name. People called it a great mystery with a twist. But, what I liked most about the reviews was the description of the PI. Most said she was likable if not a bit flawed. Who could resist that?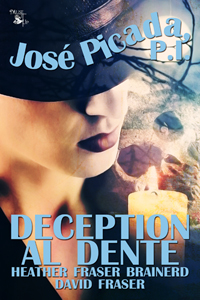 Little did I know that Deception Al Dente was of the paranormal mystery genre. Perhaps it was good I didn't know this because it left me open to surprises. And, it gave the PI lots of room for delving into mysterious places–places not ordinarily explored.
Josie P. Cates a.k.a Jose' Picada is a delightful character. When her client, a rather overweight chef, enters her office with "Hey, doll, is Jose' around?", she is more concerned with the antique chair he chooses to sit in than she is his clearly sexist attitude. You'll find out as you read, that Josie took the persona of Jose' because of a colossal printing error. Nonetheless, I thought it might be to lend credibility to a "female" PI. That was surprise number one.
 If you're looking for something to read on the beach this summer, I recommend this choice. But, be sure and buy the second in the series, The Sound of Sirens, as well. That way you can stay entertained on the beach for at least two days!
Authors Heather Fraser Brainerd and David Fraser will be on my blog on Wednesday 6/25 to talk about writing this delightful series. Come visit with us!
If you like this review and want to see more, join our community and get 2 chapters of The Clock Strikes Midnight before its release. Just sign up!