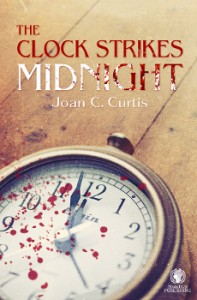 There is a feeling of the great southern author, Fannie Flagg, in "The Clock Strikes Midnight." Janie is living in Savannah with her partner, running a successful business when she gets terrible medical news. The clock is now ticking for her to finish business relating to her mother's murder and the recent release of her stepfather, convicted of killing her.  Janie's sister, Marlene, stayed in Atlanta after the murder of their mother. She married and built friendships and tried very hard not to be the girl whose mother was murdered. It's hard to forget the past when Marlene's stepfather, an abusive and cruel man, writes her from prison and calls every day with only one goal in mind – to find Janie. "The Clock Strikes Midnight" is a complex story that transcends generations.
In southern fiction, the impact of family is emphasized. Building layered and real feeling characters seems to be the niche of Joan Curtis. Janie played a key role in the trial of her stepfather and then she left, only keeping in touch with her uncle by marriage letting him know that she was okay. Marlene felt Janie's absence keenly. The girl who had been in her only companion when their mother abandoned them favoring alcohol and isolation. When Janie returns, Marlene is sinking into alcoholism and has separated from her husband. She is at a dangerous point and seems to be hiding from life, as her mother did. As we delve into the tale, we understand, despite the appearance of throwing her daughters to the wolves, there's something terribly off with Eloise. Curtis beautifully highlights the complexity of relationships when mental illness is a player. She, in a move nothing short of brilliant, introduces us to the mother as a teen. Eloise's internal dialogue is fascinating. Her development shows how a young girl spirals out of control. Eloise is happy to use her older daughter to get what she wants but sees her as a creature that has ruined her life and eventually sees her as competition for affection. Her desperation to gain her own unfolds in a fascinating way and Curtis frames the progression in a way that accomplishes the impossible, inspires sympathy for a thoroughly distasteful character.
For much of the novel we know that Janie has a secret about her mother's death. That perhaps she knew more than she ever said. Early on we learn what Marlene knew and never saw the need to say, but Janie's is more mysterious and is the driving force behind her return. Curtis' writing plays well to maintaining the suspense of this long held secret. The smooth execution of the well-planned plot line never had me wishing she'd just get to the point.  The sub-plot featuring Ralph Cooper, the husband jailed for murdering his wife, is well written. As life happens and Janie reaches out to Marlene, Ralph and the past lurk between them. At any moment Ralph, his seedy lawyer or his prison sidekick may reach into their lives and turn whatever bond they build upside down.
The setting is very much the American South. This story could not take place anywhere else. Readers may wonder how realistic it would be that characters would live in the same place and marry people in their community. Those people have never been to the south. Family dynasties are built and large cities are small towns to those people whose families have been there for generations. When you move somewhere else, there is only one goal, to return one day. That Janie would find the people she needs so easily and that the people looking for her would find her, struck me as very authentic.
I really enjoyed "The Clock Strikes Midnight" by Joan Curtis. It's a story of the love of children for a parent, loss, dealing with adversity, and trying to rise above. It's a story of how our past frames us and asks the question if we can change our future. "The Clock Strikes Midnight" is an American drama with a southern flare. If you like Fannie Flagg, Melissa Foster or Jodi Picoult, purchase this wonderful work of fiction.
Tammy Dewhirst  The Rabid Readers