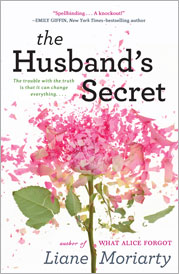 A friend recommend that I read The Husband's Secret by Liane Moriarty.  She suggested that it might be a similar suspense/mystery as my release The Clock Strikes Midnight. Well. . . I would hope that my book is as good a read as Moriarty's. I found her writing fast, clean and well-thought out. She not only created engaging characters but she also built a story that kept the reader wanting to read more.
The story begins in the mind of Cecilia Fitzpatrick a happily married, extremely well-organized mom who sells Tupperware on the side. BTW, she very successfully sells Tupperware as she very successfully does everything. Cecilia unearths a letter from her husband. On the envelope he'd written her name and the words, "do not read until my death." Being such a good girl,  she obeys his wishes for as long as she can (much longer than most of us would have!).
From this character we move to Tess who has just learned from her long-time friend and cousin (who recently lost a boatload of weight and now looks beautiful) and her husband that they have been secretly in love. This new information throws Tess's life into a tailspin. She takes her young son, Liam, off to Sydney (oh, I forgot to mention the story is set in Australia) to escape her husband and BFF's escapades with the excuse to take care of her mother.
The third important character is Rachel. We learn that Rachel's daughter, Janie, was tragically murdered twenty-eight years ago, and Rachel still suffers from this loss. She thinks of her daughter constantly, wondering what kind of life she would be leading now. She also obsesses over who might have killed her daughter. The murderer was never apprehended.
The author weaves these three main characters together in a compelling story. Interestingly, it is not the husband's secret that keeps the reader spellbound so much as what happens after the secret is revealed. In the preface to the book Moriarty refers to Pandora's box. The Husband's Secret is a modern version of Pandora's box. What do we do once the secrets are revealed? That's the underlying theme.
The other fascinating theme in the book is the metaphor created around the Berlin Wall. Cecilia's daughter is quite interested in the history of the Berlin Wall, both its construction and its destruction. At first I wondered what that had to do with moving the story along. Soon, I recognized the author's point–we all hide behind a wall of secrets. Everyone in the story–not just the husband in question–had secrets and we all hide behind them until the wall comes tumbling down. Quite clever.
Oh, and did I mention great writing? Here are some examples:
Who knew she was cab able of speaking with such hardness? Each word sunder like a block of concrete.
He was very broad-chested and athletic looking and he rode a motorbike and listened with his eyes.
She'd die with the clamp of grief still wrapped around her chest.
He kept talking. It was endless. . . like that urban myth about an exotic worm that lived in your body, and the only cure was to starve yourself and then place a hot dinner in front of your mouth and wait for the worm to smell the food and slowly uncoil itself, sliding its way up your throat.
Yes, this is a delicious read from beginning to end–worthy of many more than 5 stars.