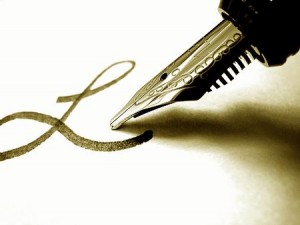 It never ceases to amaze me when I tell someone I've written a novel, they say, "I've always wanted to write a novel." It seems everyone seems to believe they, too, can write a novel. All they have to do is put pen to paper.
That leads me to think about my 5 misconceptions about fiction writing.
Number 1: Everyone has a novel in them. This conception just isn't true. That's like saying everyone can paint a picture. Some of us have the skill and ability to write and others do not. Those of us who put the pen to paper or in this day and age, the words on a screen, know how hard it is  and often after many months of work, still struggle to find the right place for our work. Just like the visual artist, the literary artist is not something we can all do.
Number 2: Fiction writing is simply writing what you know. Again, if that were the case, most of us would run out of material very quickly. We know just so much. Furthermore, fiction writers will tell you that they may begin with an idea that came out of their experiences, but that idea turns into something very different. If fiction writing were simply writing what we know, where in the world does Stephen King get his ideas?
Number 3: Fiction writers tell "lies." I have heard this many time. Those of us who create fiction are nothing more that sophisticated liars.  Right? Gosh I hate this misconception! We do not lie, we create. The art of fiction is creating a world for the reader with people they can relate to. The world and the people do not exist. But, as fiction writers, we strive to make both as close to the truth as we can. Does that mean we "lie"? No, what we do is create
Number 4: If you write fiction, you don't need to do any research. This is another misconception and it relates to number 3 above. How many times have you, as a reader, gotten upset with the novelist because you say, "That could never happen"? Indeed if you come out of the story, even briefly with that thought, we, fiction writers, have failed. We must not only research our place and the events that occur in our place, but we must also research our characters and their personalities. We must know them as real people. Furthermore, the dialogue must sound genuine. I find myself  eavesdropping on conversations around me, not to discover content, but to hear the rhythm of the talk so I can re-create the way people speak. That is research.
Number 5: Writing fiction is easy because you can change events or kill off characters at whim. Nonfiction is harder because the writer must stay within the reality of the situation. Granted we can kill people off if we want to, but the story and the characters have more control than people realize. I remember writing my first novel and feeling the pull from a character. She wanted to do something I really did not want her to do. This disconnect went on for several chapters until I finally had to give up and allow the character to have her way. Otherwise I would have found myself stuck. In reality, we cannot change the plot or kill off characters at will. Our fictitious worlds have more control on what we write than our readers realize.
How about it? Do you have a Number 6? What do you think is a misconception about fiction writing?
If you liked this post and want to see more author interviews, reviews and more, join me on Facebook by Liking my page. www.facebook.com/joanccurtisauthor