We are hosting Anthony Melchiorri on his virtual blog tour organized by Goddess Fish Touring Company. Anthony will also be giving away a $20 gift card and an autographed copy of his book The God Organ.  Visit as many tour stops as you can, register to win and comment! See the banner below for tour stops and the rafflecopter.
How to Get Readers to Connect with Your Sci-Fi Novel
by
                                      Anthony Melchiorri
Spinning an intriguing tail full of imagination, action and suspense is first and foremost on many sci-fi authors minds. We're all told the importance of a hook at the beginning of our stories to help reel readers into a book. But once you've got a reader, how do you keep them invested? How do you make it haunt their dreams for years to come?

Okay, so I definitely don't hold all the secrets to that, but there are a few crucial ways to keep readers reading and give them a book that they won't soon forget. There are so many science fiction books out there that read like a SyFy made-for-television movie with cardboard characters and a flat plot. There's nothing wrong with that if you're looking for a quick thrill. But for every Sharknado or Boa vs. Python, there is an engrossing story that masterfully weaves characters, plot, and settings into a novel that lingers with people long after they've finished it.

One of the first things some of these writers do to captivate the reader is develop meaningful relationships between characters. I'm not talking just a standard love story or buddy-buddy friendship, but a more intricate back-and-forth relationship that makes these characters spring to life. A fantastic example is Cormac McCarthy's The Road. Despite the horridness of the world and the utter desolation that his characters face, the bond between the father and son is frighteningly realistic and heartfelt. You could put those two characters into any setting and tell a fantastic story because of how well-developed they are and because of the quirks in their relationship. It's not hard to read their conversations and believe that those words passed between a father and son. The father's protectiveness, the knowledge of what's going to happen to him, and of how he's preparing his son for life in this grim world is enough to keep a reader fully invested into a story.

Author David Brin employs another strategy to engage readers by utilizing implications of today's technology in the future. It's not just a matter of predicting future technologies but showing the clear progress of how today's technology has linked up to the author's speculative future. For example, Brin wrote Earth in 1990 and it predicted the rise of the internet and connectivity between people all across the globe. It's not the main point of his novel, but the link between today's (or 1990's) version of computers and the internet is easy enough for any reader to immediately pick up. When they recognize the trajectory of how today's technology got to the author's version of our future, readers can't help but wonder if this is actually going to happen. Make these links believable, but intriguing. If you can back up your future (or even present) sci-fi world by making clear connections with today's technologies and scientific concepts, you can capture readers' imaginations and leave them wondering when your book is going to be reality.

And of course, many enthralling science fiction novels incorporate issues faced by society today and imagine them in a different world, time, or place. This gives readers and writers a chance to explore the facets of moral, ethical, or philosophical arguments in a new venue. The sci-fi movie District 9 captured the issues of xenophobia, immigration, and the economy within a fantastic story that starts with an alien refugee camp in South Africa. The flick tackles hot-button issues prevalent in our media today and deftly tells a story about these challenges society is facing without being too preachy or didactic. If you can do the same in your novels, you can pose interesting questions to the reader that are relevant to today's society and will help keep readers interested in how your characters deal with these questions.

These elements might not be present in every great sci-fi novel, but if you read enough, you'll recognize the unique character relationships, clearly relatable technological advancements, and societal issues relevant to today's world in many memorable books. Happy writing!
An Excerpt from the book…
Joel reached out to the glimmering incandescent light bulb and wrapped his fingers around it. It didn't burn him, even when he clenched it tighter and his mind screamed at him to let go. Instinct was hard to shake. With an unquenchable curiosity, he squeezed the bulb and let out an embarrassing yelp as the glass shattered. Shards projected from his open palm as he rotated and examined his hand. Silver blood streamed between his fingers.

Stepping away from the holofield, he headed back into the main art gallery. He shook his head in quiet amusement and rubbed his hand against his black slacks. No blood actually seeped over his palm and no glass shards were embedded in his hand, but he couldn't help trying to get rid of the mess. It was just another strange exhibit in the modern art museum, an illusion.

But the pain burning beneath his skull, making his vision swim, was no trick. He fell, his body going numb and his world going black.
All About Anthony
"I grew up in Normal, Illinois. After a regular (it's hard, but I refuse to make a pun of it) childhood in Normal, I left for the University of Iowa to get a degree in Biomedical Engineering. But, I couldn't give up reading and writing and there really wasn't enough of that in engineering (unless you're into thick, no-thrills books on thermodynamics and polymer physics). I picked up a second degree in English while working on the Biomedical Engineering degree and have since counted myself fortunate for making that decision. Iowa City, North America's only official UNESCO City of Literature, is a thriving hotbed of writers and readers, with some of the best visiting the city for their renowned workshop or famous authors dropping by to read a story they've written and chat.  I had the opportunity to meet plenty of great writers and storytellers that inspired me to keep writing, even when I graduated and entered a doctoral program at the University of Maryland for Bioengineering.

Today, when I'm not writing and reading, I'm primarily working on tissue engineered blood vessels, gearing my work for children with congenital heart defects. I get to work with awesome 3D printing technologies and am always astounded by the rapidly advancing technologies coursing through the veins of universities and research settings. Much of my writing has been inspired by those advancements and my conversations with other researchers, scientists, engineers, entrepreneurs, and many others interested in our evolving world."

The Giveaways

Enter the raffle for a chance to win a $20 Amazon gift card or an autographed copy of The God Organ. All you have to do is enter and if you comment or follow Anthony on the sites, you can earn more chances to win. Go to as many of the tour stops as you can, enter each time. You may be the winner!
a Rafflecopter giveaway
Don't forget to comment to increase your chances to win and visit Anthony on his other blog stops. Click Below to find those stops.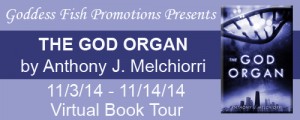 All aboard, the next stop after this one is A Book Addicts Delight on November 6. Come one come all!  
Connect with Anthony
Twitter Facebook  Website Goodreads Author's page  Goodreads Book